Information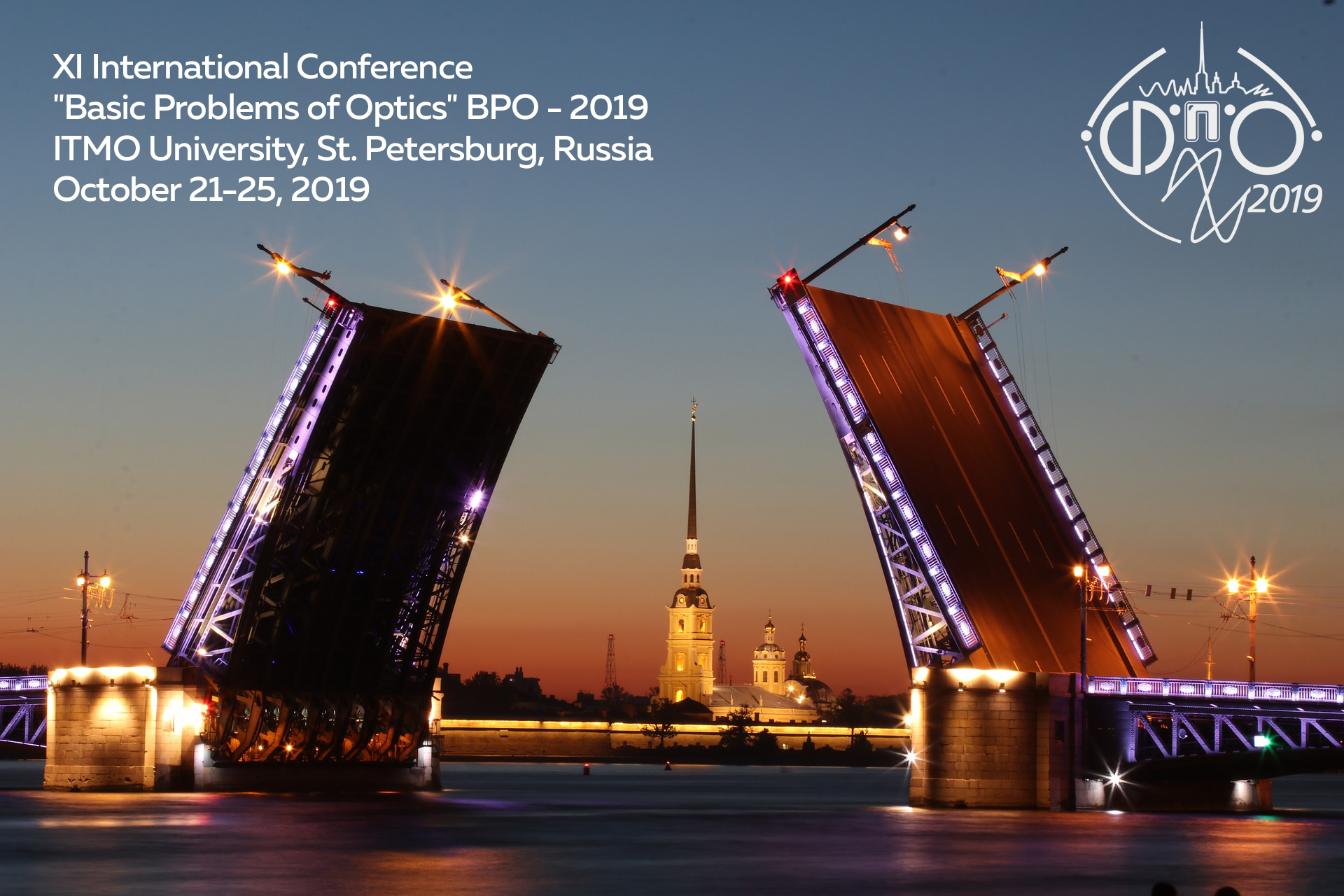 Key dates:
Deadline for abstract submission - May 27, 2019
Invitations to the Conference sending - September 2019
Opening of the Conference - October 21, 2019
Registration - October 21-25, 2019 (9:00-14:00, Kronverkskii pr., 49)

Sections
Conference "Basic Problems of Optics" includes sections on the following topical issues of optics:
optics of femto- and attosecond pulses,
quantum optics and fundamental spectroscopy,
coherent processes of interaction of light with matter,
nonlinear interactions between terahertz radiation and material, functional terahertz materials,
new principles of optical transmission, processing and storage of information,
optical materials of photonics,
optics for biology and medicine.
The conference will include: Academician Yuri Nikolaevich Denisyuk's readings and Seminar "Industrial photonics"
Reports
Conference languages: Russian, English
The conference will include oral and poster presentations.
To participate in the conference you should register at the conference website (under Registration), fill in a registration form and attach the abstract.
To see abstract rules go here.
Abstracts included in the conference program will be published in conference proceedings. Also Program committee will select reports to be published in reviewed journals.
Registration fee is 1000 rubles.
Organizing Committee:
Chair of organization committee: Tsypkin Anton
Vice-chair of organization committee:
Itin Aleksey, Zhukova Maria, Kozlova Nataliya, Stolpovskaya Olga
Voroncova Irina Olegovna, Ismagilov Azat Olfatovich, Nabilkova Aleksandra Olegovna, Oparin Egor Nikolaevich, Shaban Polina Sergeevna
International Institute "Photonics And Optical Information Technology" photonics.ifmo.ru
Tel./fax: (812) 2321467
Contact Address: 197101, St.Petersburg, Kronverksky pr.49, Organizing Committee BPO-2019
E-mail: conf-bpo@phoi.ifmo.ru